Eterna, the first medical city in Egypt, witnesses obvious progress towards launching and operating. The medical city ends 100% of construction and more than 50% of its internal and external finishing of buildings and medical units, especially its clinics.
Now, Eterna gets ready to deliver the first phase of medical units and commercial hubs very soon in 2022. Also, all the facilities, amenities, and services are getting prepared to meet the international standards of medical care.
As Eterna presents a very unique concept and execution of healthcare services, the city could present medical units, medical centers, hospitals, exclusive laboratory, exclusive radiology center and one of the largest pharmacies in Egypt, gathered in one place and at one of the best spots in New Cairo, on the 90s street and connected to the ring and swiss roads.
Moreover, Eterna provides its owners, doctors, and patients with commercial units to serve their needs.
This comes with a bunch of amenities and services such as greenery, water features, elevators, golf cars and more..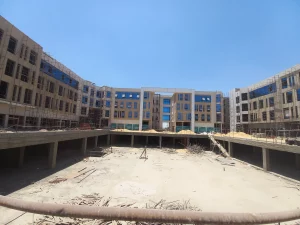 Eterna presents a very special healthcare experience and gives its owners and doctors a real opportunity to make a change in the medical community and promises the healthcare future in Egypt a very good thing.
Above, you can watch live shots of Eterna's site. Clients and potential customers can see the latest updates of the city and can be sure about the very soon delivery of its medical units and commercial spots.
Through the video and the following images you can see how Eterna is very close to its launching.